Here is what you'll get with your Free 7-Day Trial:
Access all of our test drives
With one trial sign up you can test drive IBM Engineering – DOORS Next, Test Management and Workflow Management.
 A Free live guided tour (upon request)
Have specific use cases you'd like to try out? We'll point out the top features you need to make the most of IBM ELM.
Access to our support team.
Have questions about our solution as you are exploring it, or want to build out a complete proof-of-concept? Get all the answers from our expert support team.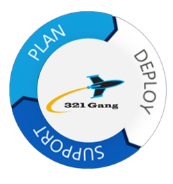 We help implement compliant, traceable solutions that manage a wide range of requirements to achieve faster deployment.
Whether you already have an implementation in mind or are just getting started, our technology experts focus on your business goals and desired outcomes first.
Not sure where to start? We'll work with you to design and implement the right solution for your team.
321 Gang, Inc.
14362 North FLW
Suite 1000
Scottsdale, AZ 85260

+1 (877) 820-0888
IBM Engineering Lifecycle Management | Free Trial