Insightful Engineering with the IBM Engineering Lifecycle Management (ELM) Suite
The complexity of today's software and products, combined with the pace of industry changes and evolving regulations, is compelling engineering teams to completely change the way they work. Engineers must use intelligent technologies to optimize the engineering lifecycle, improve product development, and to help meet strict regulatory and safety standards.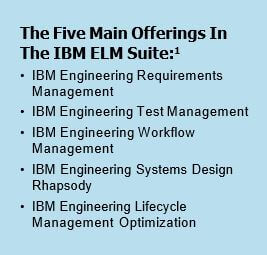 Maximizing productivity while maintaining compliance requires a holistic approach to improving the entire product development lifecycle. The solution is to adopt a continuous engineering model that supports managing requirements, model-based systems engineering (MBSE), managing workflows, and testing.
The IBM ELM suite is an end-to-end, holistic management solution for product and software development that uses artificial intelligence (AI), automation and analytics to help your organization break down silos, reduce risk, and unify requirements management, testing, workflows, systems design, and optimization. As an open and extensible solution, the IBM ELM suite acts as a single source of truth ― providing a strong foundation for transparency and traceability across all engineering data.
ENABLE ERROR-FREE REQUIREMENTS MANAGEMENT
New innovative technologies such as the Internet of Things are changing not only the way products get built, but the entire engineering process ― including design and development. Having insufficiently defined requirements can result in costly project delays, scope creep, and poor quality that doesn't meet regulatory compliance and safety standards.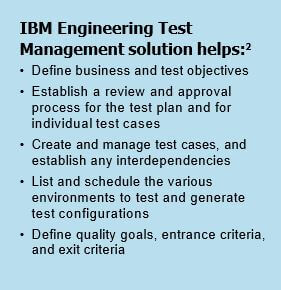 For organizations to meet their desired requirements while managing the growing complexity of connected products, engineering teams need better visibility into changes, deeper insight into data, and shared tools for collaboration. Having a requirements management plan is critical to the success of continuous product development, as it enables engineering teams to control the scope and direct the development lifecycle.
By enabling simpler creation of links and powerful traceability views across requirement specifications, designs, and tests ― IBM Engineering Requirements Management helps optimize collaboration and verification while delivering better insights for product development. With IBM Engineering Requirement Management, teams can capture, trace, analyze, and manage changes to requirements while maintaining compliance to regulations and standards.
IMPROVE QUALITY WITH CONTINUOUS TESTING
As testing requirements expand in individual number and complexity, advanced quality management tools can help engineering teams integrate continuous testing across all development stages and levels. A strong test management system helps get product or system to market faster while simultaneously optimizing the quality of the product.
IBM Engineering Test Management is a collaborative, quality management product that offers comprehensive test planning and test asset management from requirements to defects. It enables teams to seamlessly share information, link testing to requirements, use automation to speed project schedules, and report on metrics for informed release decisions.
Improving test practices and tooling is critical for meeting key milestones and time to market without sacrificing quality. Adopting test driven development practices and an end-to-end integrated quality management solution, such as IBM Engineering Test Management, helps integrate testing throughout the product development lifecycle to ensure better product quality.
THE CRITICAL LINK TO WORKFLOW COLLABORATION
As the hybrid workforce model has allowed engineering teams to grow in size and distance, their communication challenges have grown increasingly faster. Between adapting to dispersed team collaboration, evolving supplier networks, and marketplace pivots, organizations are struggling to establish meaningful collaboration in real time to see valuable business results.
Workflow collaboration is a core element in successful engineering lifecycle management that organizations often overlook. Being able to track, manage, and report on work across all teams is critical to success across dispersed, large, or multidisciplined engineering teams.
Adopting tools that help streamline communication and collaboration workflow increase transparency and traceability across engineering data. The IBM Engineering Workflow Management solution makes it easy to exchange information directly in the context of your work. By allowing teams to manage plans, tasks, and progress in real time, IBM Engineering Workflow Management acts as the critical link between required and delivered work.
MOVE BEYOND MANUAL TO MODEL-BASED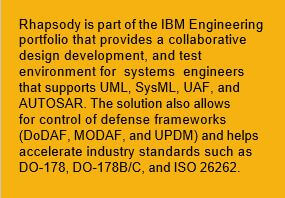 For companies building complex systems in highly regulated industries, engineering teams are often pressured with meeting all the established product requirements ― on time and budget ― so the organization can gain competitive advantages in the marketplace.
Not only that, but systems engineering teams are also tasked with the job of ensuring that everything they design and develop meets stringent industry and government specifications. This compliance is essential not only to protect the consumer, but also to protect their organization from litigation and penalties.
IBM Engineering Systems Design Rhapsody offers a collaborative solution for Model-Based Systems Engineering (MBSE) activities by enabling teams to create, test, and document systems and software designs. By supporting Scaled Agile Framework for Lean Enterprises (SAFe) practices, Rhapsody enables engineering teams to:
Use automatic consistency checking to enhance agility and improve reuse with collaboration to reduce both recurring and nonrecurring costs
Share, collaborate, and review engineering lifecycle artifacts
Get continuous validation through rapid simulation, prototyping, and execution to address errors earlier when they are less costly to fix
Using automation to build prototypes and simulations can help engineering teams focus more of their time to better understand and communicate product and/or system functionality. By doing so, it provides the foundation for digital transformation and for leveraging the digital twin modeling strategy.
OPTIMIZE ENGINEERING LIFECYCLE MANAGEMENT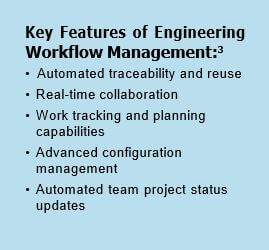 Organizations need to follow an established engineering process and strict set of guidelines when building complex systems. However, pressures to deliver products to market faster with more features ― that perform perfectly and cost less to develop ― require organizations to leverage engineering lifecycle management tools to compete in today's dynamic market. The IBM Engineering Lifecycle Optimization portfolio includes data analysis and visualization tools, process automation tools, reporting tools, and third-party integration tools that can complement the IBM Engineering Lifecycle Management solution to further optimize the development process.
CONCLUSION
Today, systems engineering has reached a tipping point in product complexity. Traditional engineering practices cannot efficiently develop competitive, complex products in a timely fashion. To overcome these complicated issues and stay ahead of countless rivals, organizations need engineering lifecycle optimization and management tools to modernize their business, increase product development, and ensure strict regulatory and compliance requirements.
The IBM ELM suite helps engineering teams adapt quicker and easier to industry-specific design complexities and emerging industry standards while maintaining compliance. By optimizing collaboration and communication across all stakeholders, improving decision-making, productivity, and overall product quality ― the IBM ELM suite can help your enterprise accelerate insightful engineering.
ACCELERATE ENGINEERING AND DEVELOPMENT WITH 321 GANG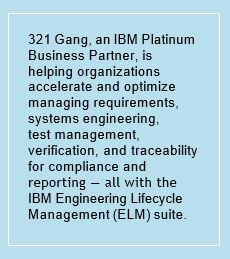 As an IBM Platinum Business Partner, 321 Gang enables organizations to address increasing complexity, shortened cycle times, continuous change, and collaboration demands while minimizing adoption time and risks. Our lifecycle solutions increase productivity and reduce costs by automating systems' lifecycle activities for a variety of business operations. Through the use of Lean-Agile principles and SAFe, the 321 Gang Consultants work with the industry leading system builders of embedded software on best practices for requirements management, MBSE, test management/verification and validation, and traceability for compliance and reporting. 321 Gang is the leader in applying SAFe's Lean Systems Engineering principles and practices, and their consultants guide large enterprises scale lean-agile practices, both horizontally across engineering disciplines and vertically for large programs.


321 Gang | 14362 North FLW | Suite 1000 | Scottsdale | AZ |  85260 | 877.820.0888 | info@321gang.com
¹IBM, IBM Engineering Lifecycle Management Software Portfolio, 2019.
2 IBM, IBM Engineering Lifecycle Management Software Portfolio, 2019.
3 IBM, Engineering Workflow Management, 2021.
The IBM logo and the IBM Platinum Business Partner mark are trademarks of International Business Machines Corporation, registered in many jurisdictions worldwide.
© 2021 Copyright 321 Gang