Here is what you'll get with your Free 7-Day Trial:
Welcome to Launchpad, a guided trial experience for Jira Align.
Based on your role, Launchpad introduces you to key tasks in Jira Align
through a series of overview videos and detailed step-by-step simulations.
Then, try it live with your teammates, using the sample data we've provided,
or by creating your own demo data.
To request a Launchpad instance, fill out the form with your contact
information. Be sure to use your company email so you're added to the same instance as your coworkers.
Your Launchpad trial is good for a 7 – day period. Once your trial ends,
we'll clear any data or changes made to the instance.
We hope you enjoy it as much as we do!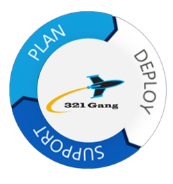 We help implement compliant, traceable solutions that manage a wide range of requirements to achieve faster deployment.
Whether you already have an implementation in mind or are just getting started, our technology experts focus on your business goals and desired outcomes first.
Not sure where to start? We'll work with you to design and implement the right solution for your team.
321 Gang, Inc.
14362 North FLW
Suite 1000
Scottsdale, AZ 85260

+1 (877) 820-0888