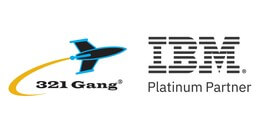 Large Enterprise Computer Services Company Case Study
This case study of a large enterprise computer services company is based on a May 2023 survey of 321 Gang customers by TechValidate, a 3rd-party research service. The profiled company asked to have their name blinded to protect their confidentiality.
"IBM Solutions and 321 Gang enabled us to create a world-class, comprehensive system/software engineering tool that supports a flexible SDLC with a high level of visibility to our clients. Our client is a very active user of ELM, for both visibility, data entry, and approvals."
"321 Gang support has always been reliable and at a high level of IBM Rational product experience. We highly customize our use of ELM and 321 Gang has helped us immensely with doing that. Our only experience with hiring a labor resource from a different IBM Partner was a disaster and we didn't get our money's worth from it."
"We have had nearly a decade of 321 Gang support on this project."
What challenges were you experiencing with your previous solution before switching to IBM Rational/Engineering tools using 321 Gang?
Poor traceability between tools
Fragmented information
Inefficient collaboration
Lack of project visibility
Inconsistent processes
Which IBM Rational/Engineering solutions has your organization been using?
Rational Team Concert/IBM Engineering Workflow
IBM DOORS Next
What are your most important service needs when using 321 Gang services for IBM Rational/Engineering solutions?
Mentoring
Navigating IBM support
Expanding adoption
Implementation
The surveyed company achieved the following results with 321 Gang:
What were the most valuable aspects/features of IBM Rational/Engineering solutions in your decision to choose these products over other solutions?
End-to-end engineering management
Integration with other tools
Collaborative environment amongst IBM tools
Scalability and flexibility
Traceability
Compliance and regulatory reporting capabilities
Analytics and insights
Partner support from 321 Gang
What benefits have you experienced after using IBM Rational/Engineering solutions?
Improved productivity
Improved quality
Better decision-making
Allowing us to establish a disciplined system/software engineering process from requirements provision to maintenance of deployed capabilities, with an auditable record of everything that got us to that point.
Confirmed that when looking to purchase licenses or get consulting support for IBM Rational/Engineering products, they are extremely likely to consider 321 Gang first.
Company Profile
The company featured in this case study asked to have its name publicly blinded because publicly endorsing vendors is against their policies.
TechValidate stands behind the authenticity of this data.
Company Size:
Large Enterprise
Industry:
Computer Services
About 321 Gang
For over 17 years, 321 Gang has helped organizations improve their ability to design and develop Systems and Software in highly-regulated industries in order to achieve better business outcomes.
Source: 
TechValidate survey of a Large Enterprise Computer Services Company